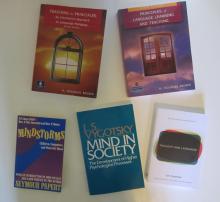 We've already mentioned the importance of Bleger's work for Linguathon. Now, what do these books have in common?
Lev Vygotsky (influenced Bleger of course, and Brown too)
H. Douglas Brown (the great systematizer, distilled principles and synthesized them into a whole flexible approach)
Seymour Papert (convinced me we need the Grammar toy, the Pronunciation Toy, the Learning Toy, everything a toy, toy and made by ourselves as we learn...)
These works will be coming up a lot...